After-School Science Clubs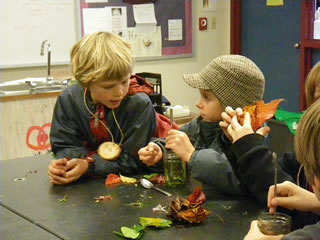 Science club paper chromatography autumn leaves
At Kwiáht we believe that students' energy and enthusiasm for science must be sustained by opportunities for individual inquiry and achievement outside of organized classes and school hours. Kwiáht routinely hosts individual projects by local students in Grades 8-12, particularly in genetics and analytical chemistry, and organizes science events for youth of all ages.
Kwiáht launched the islands' first after-school science club in 2008 on Orcas Island with the help of the Orcas Island Community Foundation and local parents. At the suggestion of parents, the club was divided in 2009 into an elementary-level program that focuses on field trips and discovery of local ecosystems, and a middle-school program devoted to lab skills and conservation research.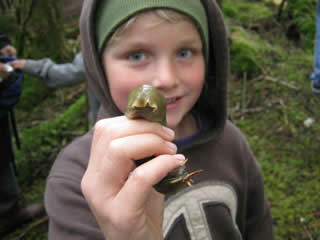 Science Club Summit Lake slugs and frogs
Orcas middle school clubbers carried out a countywide study of Triclosan and Estradiol in sewage effluent in 2010, and then turned their attention to evaluating bioremediation projects such as a large artificial wetland built in Eastsound to manage contaminated rain runoff, and to the use of leaf-munching caterpillars as bioindicators of the distribution of toxics in terrestrial ecosystems.
The Orcas elementary club's "discovery days" have included:
Collecting rocks and minerals at the Dolphin Bay Quarry
Collecting mushrooms at Mountain Lake in Moran State Park
Exploring East Sound tide pools on nighttime low tides in winter
Exploring undisturbed bogs for amphibians, insects, and crustaceans
Searching for rare orchids around on Mount Constitution
Hiking to hidden trout streams and waterfalls on east Orcas
Sampling fruit from historic (1860-1910) Orcas orchards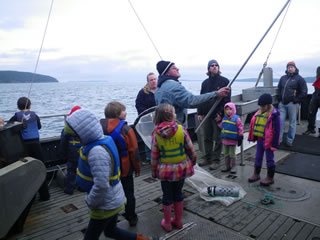 Towing plankton aboard RV Centennial
At Lopez School, Kwiáht equipped an experimental Tinker's Corner in 2013, where local elementary students can reserve blocks of time to tinker with a workshop full of electrical and electronic components, batteries and tools. A Soil Lab is planned, associated with the Farm-to-School program, to provide a safe environment for elementary students to tinker with simple inorganic chemistry focusing on plant nutrition and food chemistry.
Kwiáht also contributes technical advice and field supervision to the Orcas Island Youth Conservation Corps and similar programs in the islands, and will use our accreditation in the 21st Century Conservation Service Corps initiative to recruit Native American youth from Tribes historically associated with the islands, to work alongside island youth.