Classroom Projects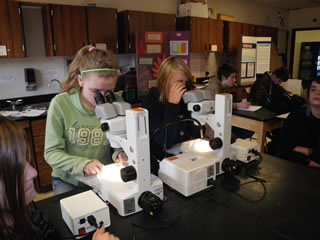 Identifying plankton Orcas Grade 8
An informed community and sound stewardship begins with our children. We partner with teachers at seven public and private schools in the San Juan Islands to engage students in meaningful research in some of the islands' special places. Our goal is to enable youth to understand and participate actively in decisions ranging from protecting critical habitats to building codes, sustainable farming and tourism—and for youth to lead with evidence they have produced themselves, rather than second-hand information or opinions.
After a decade of providing science enrichment activities to local schools, we believe that scientific literacy begins with learning patient observation, careful measurement, accurate description (counting, drawing, writing), and basic instrumentation (such as microscopes and spectrophotometers) by Grade Five. Ability to collect and organize evidence must go hand-in-hand with critical thinking, in particular being able to ask: "What do we know?" "How do we know it?" and "How could we find out?" We also believe that critical use of web-based information is an essential skill, with an emphasis on how the credibility and accuracy of "facts" can be assessed.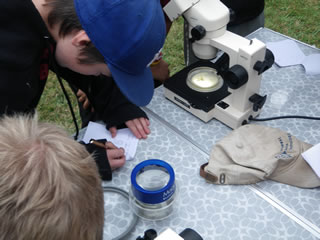 Wetland invertebrates field lab Orcas Island
Animal behavior and toxicology studies using easily maintained insects, amphibians, sea stars, and aquarium fish, exploring animals' senses, their response to stimuli such as food and temperature, their prey choices, and the effects of stressors on their development e.g. growth rate and metamorphosis. Introduced at the Grade Three or Four levels, behavioral experiments also raise essential ethical questions: when is knowledge worth the cost?
STEM-Art gardens designed by elementary-level students include raised beds attracting birds and pollinators, producing different kinds of food, aromas, colors and flavors, and changing soil chemistry, soil arthropods and fungal mycelia. Art, writing, photography, soil and plant chemistry and plant genetics are more meaningful in a living laboratory.
Wetlands offer great learning opportunities in children's own backyards. A State Farm Youth Advisory Board grant in 2012-2013 enabled us to explore amphibians, freshwater invertebrates, and pollution with students in four of the islands' school districts.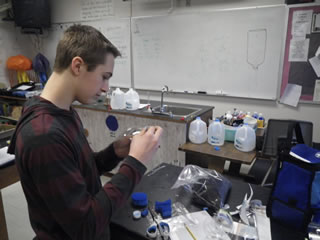 Assembling biofilters
Our San Juan Islands Marine Health Monitoring Network offers year-round opportunities for local classes to conduct wildlife surveys alongside Kwiáht's adult volunteers, and its Deep Reef Marine Health Observatory is specifically aimed at supporting class projects involving marine technology such as remote sensing, data logging tags, and underwater video. Friday Harbor elementary students published a coloring book on local marine life!
Kwiáht has placed increasing emphasis on green engineering with activities that require students to design, build and test bench-top models. One team of Orcas Island students designed and refined biomechanical filters to recycle nitrates from frog aquaria into frog food, and another designed and built a portable bioswale-in-a-box for roof runoff. Lopez students have an ongoing program of testing native plants for bio-filtration activity, and planting and monitoring "rain gardens" with the most promising plant species.
Kwiáht is also building a geographic focus and technical strength for each island school district. Lopez Island students have adopted Weeks Wetland, a coastal marsh threatened by urban development and sea level rise; and Kwiáht has developed a population genetics laboratory at Lopez High School with help from the Toshiba America Foundation. Orcas Island students are focusing on eelgrass meadows at Eastsound with analytical chemistry instruments such as a microplate reader for ELISA immunoassays. Kwiáht is exploring a computer science and spatial modeling concentration with Friday Harbor teachers, using terrestrial and marine sites throughout San Juan Island to study long-term change.
Research Papers:
See also: Amphibian Watch Notebook