Donate!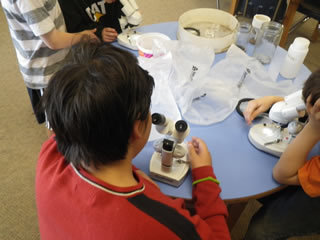 Kwiaht provides equipment for school science
Although volunteers provide nearly 90 percent of the skilled time that keeps Kwiáht monitoring and research programs running, and (as a cooperative nonprofit) Kwiáht has no paid administrative staff, we cannot do without experienced supervising scientists or supplies for our field stations and laboratories. Kwiaht also relies on grants and donations for outreach events, the publication of scientific and educational materials, and the costs of student programs and apprenticeships.
Since its inception, Kwiáht has relied increasingly on private foundations and individual donors in the islands and the Salish Sea region for our operating expenses. We are happy to be owned by the community that we serve.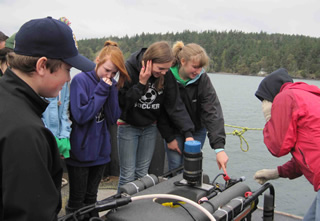 Orcas middle school students help with rockfish study
Kwiáht is exploring ways of building sustainability for our core functions, which include our classroom partnerships with the islands' schools; the San Juan Islands Marine Health Monitoring Network; our irreplaceable archives of specimens and DNA from the islands' unique plants and animals; and our accumulated knowledge of the changing distributions of cornerstone marine and terrestrial species in the archipelago, from bugs to birds.
Kwiáht also seeks individual and institutional sponsors for particular programs. You can Adopt A Species at Indian Island for as little as $25 per year, or for $1,000 or more, you can become a "Sea Star" of one of the community monitoring stations that form the San Juan Islands Marine Health Monitoring Network, with special recognition and events to bring you even closer to the exciting discoveries our teams continue making in the field!
Part of our response to the 2020 pandemic is to support food security through access to sustainable wild foods. You can donate towards purchasing a fishing license for an islander in need or donate fishing or harvesting tools to our lending library.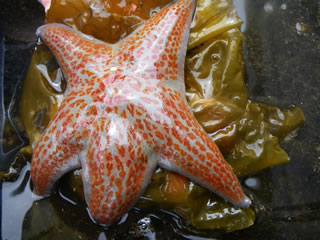 Imbricate star in East Sound
Or mail your donation to:
KWIAHT
PO Box 415
Lopez WA 98261 USA
Kwiaht is a 501(C)(3) nonprofit organization incorporated in Washington State, and a Washington State registered charity. We issue tax receipts and recognize donors in our educational publications and technical reports. Donating to Kwiaht is an investment in saving the unique animals and plants of the San Juan Islands, and in educating the next generation of islanders in science and good stewardship.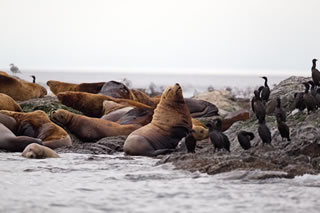 Sea Lions in San Juan Channel
(photo by Peter Cavanaugh)
Gifts of land, vehicles, boats, scientific instruments or other property are accepted but require prior Board approval. Contact us if you have questions about Kwiáht's current needs for vehicles or equipment, or if you would like to see our Legacy and Succession plans.