Indian Island Marine Health Observatory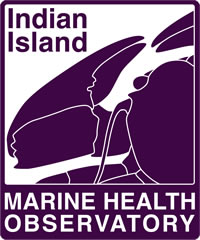 Indian Island Marine Health Observatory (Orcas Island) monitors nearshore and intertidal habitats around Indian Island in Eastsound. Data is collected on the abundance of key indicator species living on and beneath the rocks (starfish, sea anemones, sea slugs, crabs) as well as fish species found in the eelgrass meadows. Eelgrass shoot-density, the diversity and age class distribution of infaunal bivalve species buried in beach sands, and contaminant concentrations in bivalves are measured annually. Seabird use of the island is also monitored together with flowering times of native plants.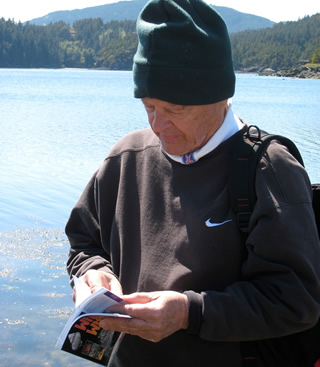 Volunteer Bruce Hall
A special field guide to marine life at Indian Island is available at local stores, and community docents provide guidance on the beach for school groups and over 4,000 visitors annually (if you plan to bring a group to the tidelands around Indian Island you can contact us in advance to make sure we can have a docent on hand).
See also:
Indian Island Field Manual (a socially distanced docent training, 2020)
Indian_Island_health_of_the_bay_2014
Indian Island monitoring report 2013 in brief
Visit the website: Indian Island Marine Health Observatory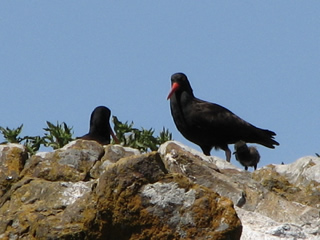 Oystercatchers with chick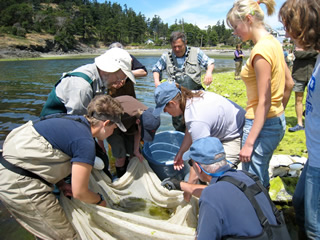 Indian Island seining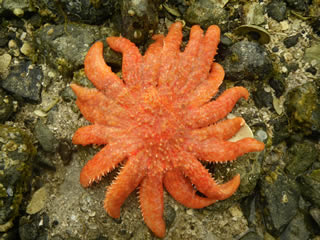 Sunflower star Pycnopodia helianthoides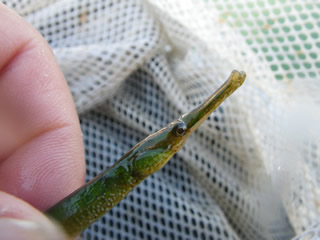 Bay pipefish