About Kwiáht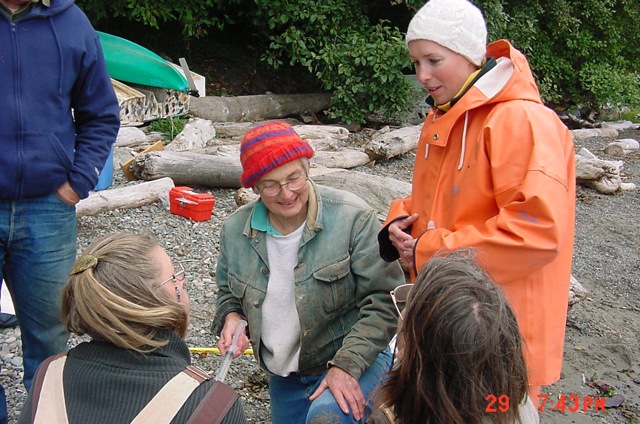 Community Salmon Team
Kwiáht is a nonprofit conservation biology laboratory in and for the San Juan Islands of Washington State. Our lab was founded in 2006 by the late Samish Tribal leader Kenneth Hansen. Kwiáht is a Coast Salish (Native American) word that means a place that has been kept physically clean and spiritually healthy. At Kwiáht we combine the latest scientific research methods in ecology, biochemistry and genetics with respect for indigenous values of place-centered human responsibility for life processes.
If you live in San Juan County, we are your local resource for animal and plant diversity information. Contact us if you would like us to identify an unfamiliar plant or animal, or discuss the plant communities, inter-tidal areas, streams or wetlands on your property.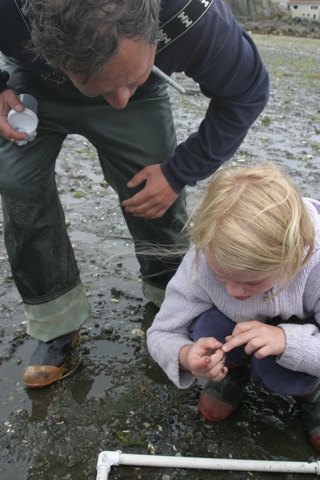 Russel Barsh with student on Indian Island
Kwiáht's Articles define its twofold mission as: scientific research in the service of good stewardship of cultural and biological resources in the San Juan and Gulf Islands, and the improvement of local science education. Kwiáht's scientists, students, and community volunteers (citizen scientists) focus on gaps in our current knowledge of species diversity and ecological processes, and promote local efforts to protect and restore terrestrial and aquatic ecosystems.
Kwiáht founder Kenneth Hansen was a descendant of some of the leading traditional Coast Salish families of Lopez, Cypress, Guemes and Samish Islands. Ken's family taught him that place-based knowledge and responsibilities are the most important legacies left to us by our ancestors. A family won renown for the abundance of fish, birds, animals, gardens and ancient trees in its traditional places: these were the riches they shared by feasting with others. Kwiáht pursues the indigenous land ethic of the islands with scientific methods: science for stewardship.
Our Board of Trustees consists of islanders who share Ken's vision: community leaders, teachers, scientists and engineers with a love of the islands and a commitment to prudent, sustainable enjoyment of the environment. Kwiáht is a scientific cooperative: a network of dedicated islanders who design and carry out projects collaboratively. Federal and state government research contracts and private foundation grants support project expenses.
Kwiáht is a 501 (C) (3) nonprofit and a charity registered with the Washington Secretary of State. Donations are tax-deductible. We can issue tax receipts for donations of cash or useful scientific instruments.