Cutting edge research in the San Juan Islands and Salish Sea
Our Mission:
The mission of Kwiaht is science for stewardship: working with Indian tribes and local communities to protect and restore ecosystems, and conducting scientific research that strengthens good stewardship of cultural and biological resources in the San Juan Archipelago.
Kwiáht: connecting islanders with the environment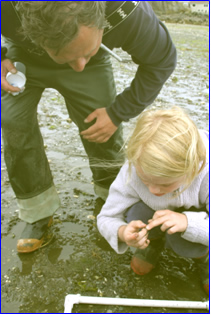 Russel and student exploring tidepools.
Wide ocean vistas, flowering meadows, and healthy marine resources are attractions of island life.  Healthy ecosystems enhance our quality of life and draw visitors and new homeowners.  But people can also affect island ecosystems and the unparalleled natural environment we enjoy today.
As an islands-based scientific organization run by islanders — professional scientists, students, and volunteers — Kwiáht is uniquely situated to help islanders find a healthy balance between people, plants and wildlife. 
Kwiáht inventories and maps our living treasures from seabirds to salamanders, and from butterflies to bats.  Our growing knowledge base depends on reports and specimens from islanders, young and old, as well as our own scientific studies.
Kwiáht's unique community based monitoring network includes the Indian Island Marine Health Observatory at Eastsound.  The monitoring network takes the pulse of rare and sensitive species such as salmon, seahorses and native wildflowers.  Kwiáht also uses the tools of geology and archaeology to explore the islands' ecological past.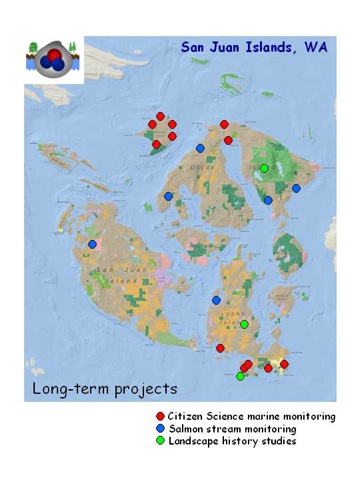 Click to view larger map
Kwiáht's databases, collections and plant diversity bank comprise the islands' memory of ecosystem richness and change.  Whether you are wondering how to restore a wetland, what to plant in your backyard for local wildlife, or whether the turtle in your pond is a native species or pet-store fugitive, we have the most complete, up-to-date information on how Orcas ecosystems work and how they are changing.
Kwiáht scientists also spend hundreds of hours each year in local schools stimulating the curiosity of young islanders by providing hands-on adventures in science, and, at the high school and college level, paid internships.  We provide employment for young islanders returning with science degrees. A majority of our interns and young scientists are women. 
With a large volunteer base and commitment to local conservation, Kwiáht can carry out research for a fraction of the cost of university-based programs, and spends less than five percent on administration. Competitive research grants are short-term, however.  Without secure long-term financial support, it will be increasingly difficult for Kwiáht to maintain its living collections, its ecosystem monitoring stations, and its school programs. 
Help us preserve the living legacy of island wildlife and plants for future generations of islanders!  Consider a legacy gift to help us endow and sustain the San Juan Islands Marine Health Monitoring Network, the Islands Plant Diversity Bank, Amphibian Watch, Bats & Barns, or internships in biochemistry, toxicology, and genetics for local youth.
      *Kwiáht means "a clean place" in the Native American language
of the Central Sound.
Kwiáht is a 501 (C) (3) nonprofit Washington State corporation.  Donations are tax-deductible.